Home for Fall-Rustic Centerpiece
From September through November I like to add natural Fall elements around the house. When my kids were little, I had a lot of Halloween decor, but  now that they're older I pass up the Halloween decorations in favor of natural Fall decor that can last all the way through Thanksgiving.
I've been patiently waiting for my local nursery to get in its stock of mini pumpkins. At only 3 for $1, I like to stock up on these. They didn't have any of the white mini pumpkins this year, so I painted them myself. I used them to assemble a centerpiece of natural elements for my table. It's easy to make this farmhouse inspired centerpiece yourself*!
Step 1   Start with a vessel. A basket, a dough bowl or even a cake stand would work for this. I have a tree stump slab so I used that to give the centerpiece some elevation.
Step 2   Add some fall greenery. I picked up a small bunch of greenery with branches at my local grocery store. I laid the greens out on top of the wood piece.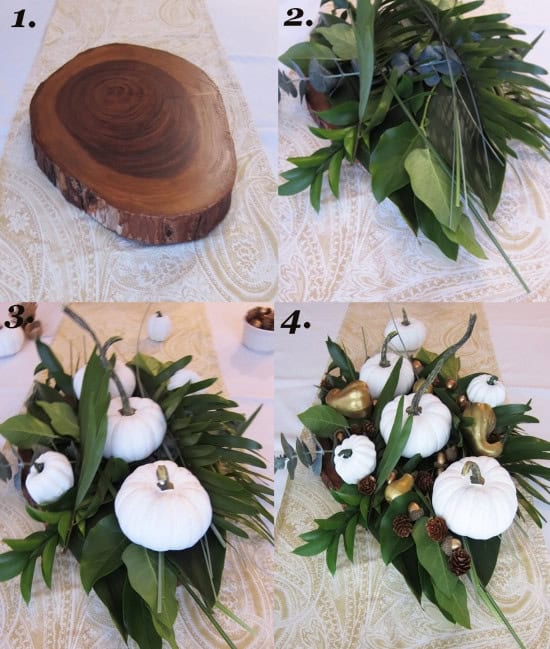 Step 3  Add white pumpkins over the greens.
Step 4   Add embellishments to fill it out. I used mini gourds painted gold along with mini pinecones and acorns.
Some other ideas for embellishments are artichokes. Artichokes would help fill in space if you were using a larger vessel as your base, but they also sell mini artichokes in the grocery store. Of course, if you prefer a little more fall color in yours you could add orange pumpkins or fall colored leaves.
Another idea is to add candlesticks to your centerpiece. I had planned to use two long tapered candles for this one, but I couldn't find my candle holders. If you use  candle holders, add them before adding the pumpkins and embellishments.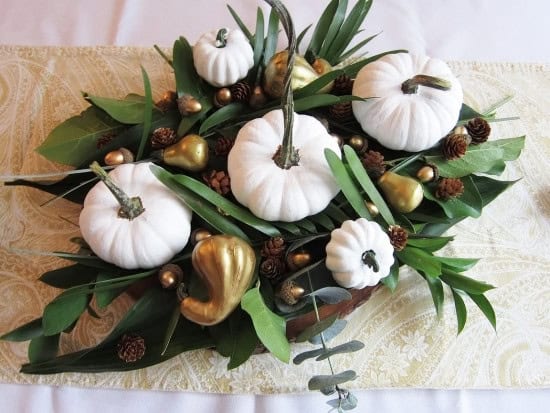 Here is a closer look at my rustic centerpiece.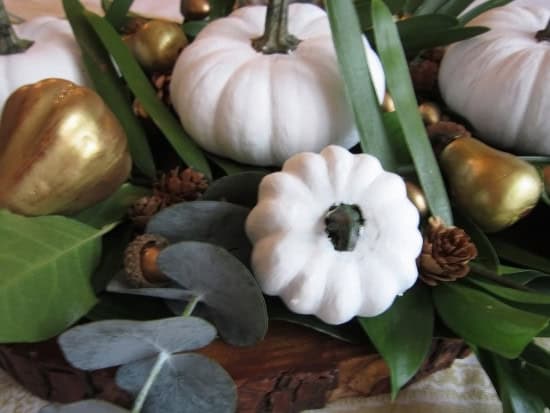 I may have to switch out the greenery once or twice before Thanksgiving when it wilts. But at under $5 in the grocery store, that won't be a problem. Other than that, this will last for weeks!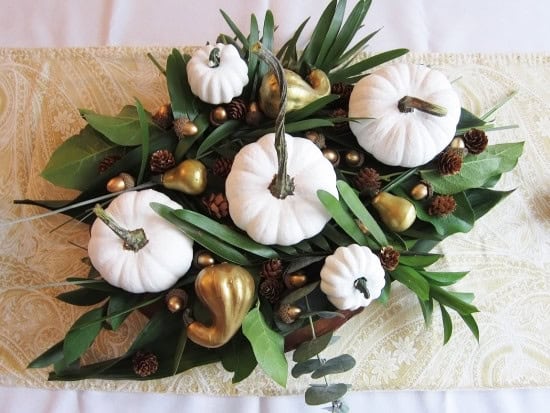 This project is part of the Home for Fall Blog Hop created by Hometalk and Donna from Funky Junk Interiors. Thanks to Donna for putting this all together! You can search #homeforfall on social media and visit the links below to see tons more inspiring fall projects from bloggers!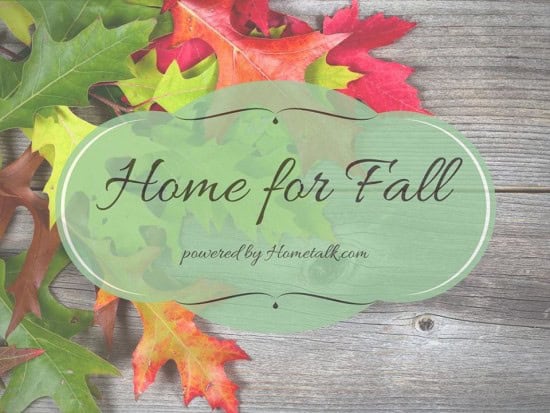 This post contains affiliate links, read my full disclosure here.