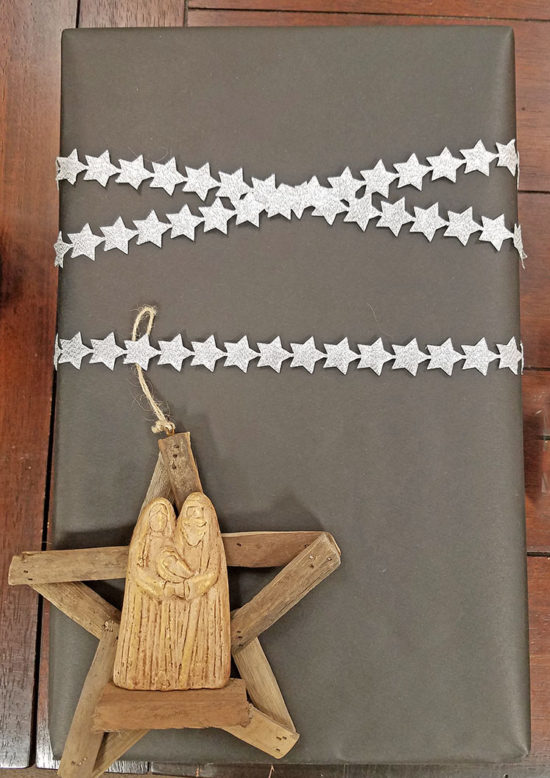 You've taken the time to pick out the perfect present for your friends and family, now it's time to step up your gift wrapping game. Presentation matters! I had a fun opportunity last weekend to host a demo at my local World Market store sharing creative gift wrapping ideas. I'm camera shy, so I don't often share pictures of myself here, but here is one of me at the demo.
I had picked up lots of pretty ribbon, twine, a few ornaments and wrapping paper (all from World Market) prior to the event so I could get everything set up in advance.
This idea was one of the cutest. Start out with these small foil gift boxes*, which are sold in sets of four or eight. Wrap six of them in Christmas tree wrapping paper and leave one as is. Form it in the shape of a tree, with the unwrapped one as the tree stump. Add fun ribbons for embellishment and a craft paper star gift tag at the top. You could also take this idea a step further and turn this into an advent calendar for the kids!
Another idea is both a gift and gift wrap in one. Start out with a champagne bucket and pick up some matching bar accessories. I used a cocktail shaker, a bottle opener, coasters and a wine stopper in mine. Then use oversized white flour sack towels to wrap each of the accessories, tying each one with black ticking stripe ribbon. Place them all in the bucket, and this is one impressive gift idea! This is also a great idea for a bridal shower or as a hostess gift.
Odd shaped gifts require a gift bags, some things are just too awkward to wrap. To dress up your gift bags, attach an ornament (I used this wooden soldier) with a chalk board clip that doubles as a gift tag. I also used a few sheets of tissue paper, some solid and some with stars. Layering helps it to look more lush. These gift bags are perfect for wine bottles, always a welcome gift in my house. 🙂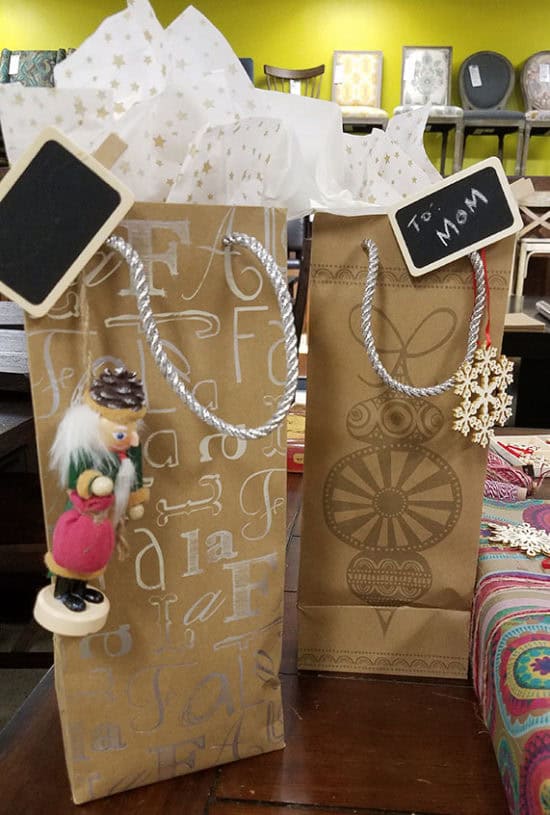 If you prefer non-traditional gift wrap, try this colorful paper. The paisley paper comes in a set along with the coordinating striped paper. Use the striped paper around the center and then wrap multicolor flax cord and tie in a bow. Embellish with a simple snowflake ornament, which come in a set of 12 so you can use those on many gifts.
The chalkboard wrapping paper is my favorite. As with decorating, I like to keep things neutral and then dress it up with accessories. I picked up some bakers twine (which I will also use to wrap my Christmas cookies) in Christmas colors and tied it around this gift with another of the snowflake ornaments. In the picture at the top of this page, I used the driftwood nativity scene ornament along with the silver star ribbon.
Here's a shot of the gift wrapping ideas on display at the World Market event.
I hope you're inspired to have fun with your gift wrapping this year! All of the ideas shown here were curated by Lauren McBride for World Market.
*This post contains affiliate links, you can read my full disclosure here.