Five for Friday Design Picks #53
Happy Friday! Can you believe tomorrow is October 1st already? September really flew right by! My home is decorated for fall already and I'm getting into the groove of cooking bigger meals that are comforting on these cooler days. I don't love to cook, but I enjoy it when I have the time and it's cold outside. But usually, I'd rather be decorating or DIY'ing something. Today's Five for Friday design picks are all about bringing Fall decor. I love all of these simple, yet beautiful decorating ideas…enjoy!!
 This fireplace from Thoughts from Alice stopped me right in my scrolling tracks when I first saw it on Pinterest. It's rustic farmhouse perfection.
2. Fall gardening ideas..fill a wheel barrel or an old cart full of mums, pumpkins and other seasonal finds.
3. I love white with more white,  and this amazing centerpiece with antlers and white pumpkins is just gorgeous!
4. Fall decorating with orange pumpkins is a great example of keeping things neutral and adding in seasonal decor.
5. My mother and I went to a fall festival and craft sale a few weeks ago at an amazing nursery near my home. This place always has amazing ideas for creative gardening. I took this photo of a fall window box on the side of a little red barn there. I need to add some window boxes to my house after seeing this!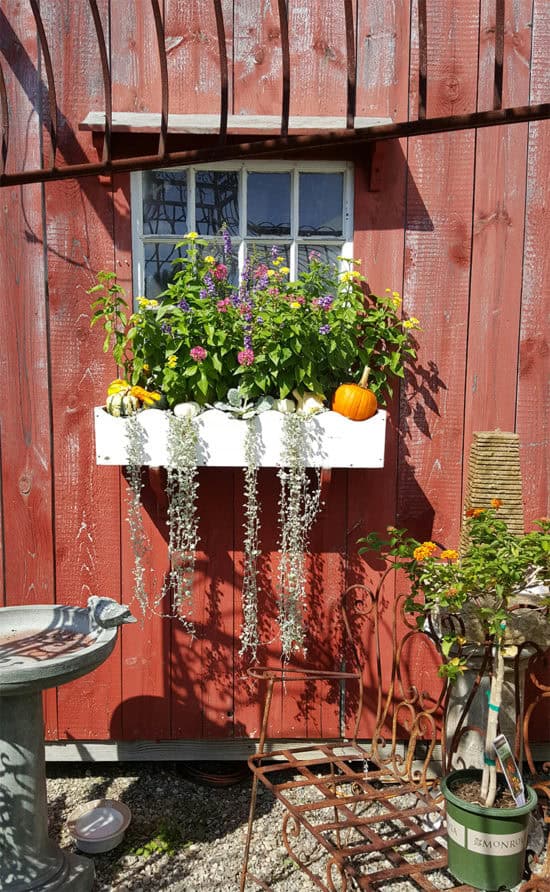 Have a great weekend!