This weekend flew by, didn't it? We have been crazy busy over here working on my daughter's bedroom makeover, I'll share an update on that later this week. In the meantime, I can't believe it's time for Easter already! I found the cutest cupcake kit at Home Goods a few weeks ago that inspired me to do a little bit of Easter decorating.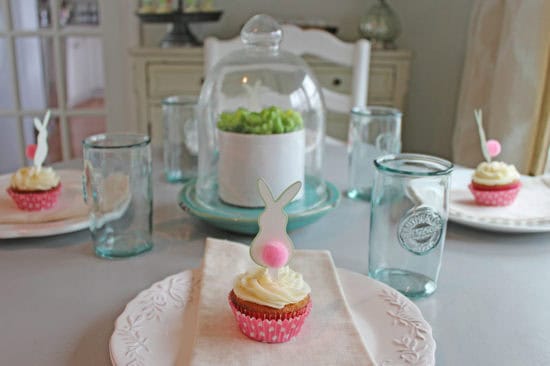 Before I got into interior design and blogging I loved cake decorating. I made every possibly themed birthday cake for my daughter's birthdays as they were growing up. I even took the Wilton cake decorating classes. I haven't done anything like that in a while, so I enjoyed baking these cute cupcakes. My mother had recently told me about a buttercream icing mix she found at the food store that she loved, which is what I used for these Easter cupcakes. It's called Purely Simple by Pillsbury* and it's delicious. You just add butter and water to the mix and you have buttercream icing in minutes! I haven't seen a chocolate version in the food store yet, but I did find it here. I'm thinking you could also probably add some melted baking chocolate to the regular mix.
I styled my 3-tiered tray with colored eggs, baby's breath and my Easter cupcakes, which were disappearing faster than I could take these pics. The cupcakes are just too cute on my table. The linen napkins are from Pier 1 and I use them for every single holiday.
As for the baby's breath, I'm  pretty sure that is my new favorite decorating accessory. It lasts forever, I've had this bunch since I decorated my Spring mantel and it's still alive.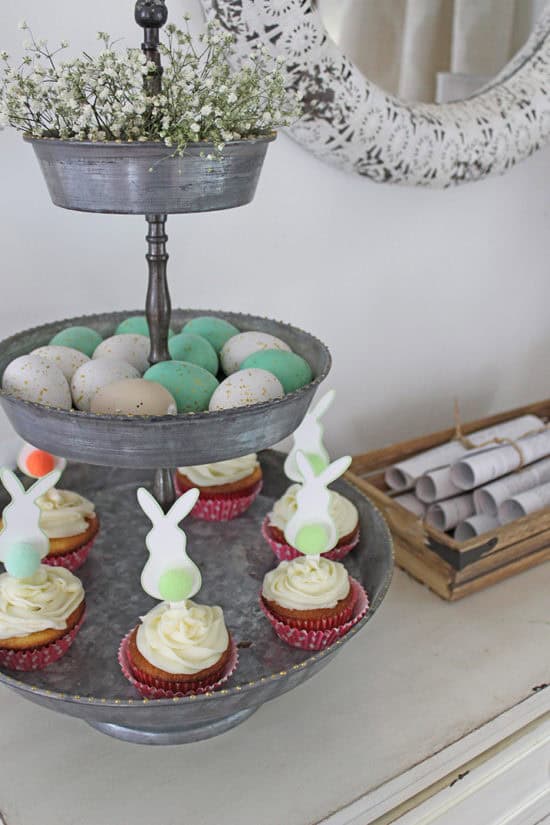 I use the 3-tiered tray for every holiday as well. It helps for organization in a small space. Going vertical is one of the best space-saving tricks.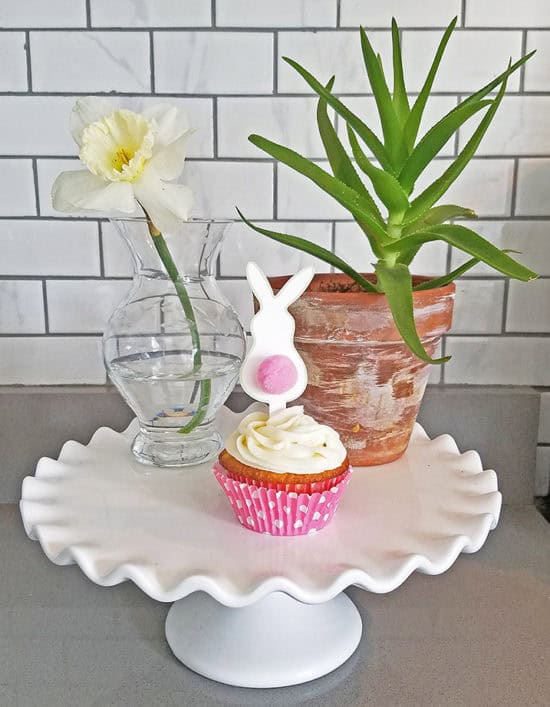 I cut the daffodil from my yard, it's my first cut flower of the year. They were face down in the mud from all the rain we had. I cut them, rinsed them and brought them inside to be enjoyed.
If you're interested in similar cupcake kits you can find some, you can find some here and here.
This post contains affiliate links, you can read my full disclosure here.