Design Picks For Your Foyer
The foyer/entry way is the first impression guests will have when stepping into your house. Dress it to impress! If you have the space for a console table, start with that. If you don't, one trick you can try is arranging the living room furniture in such a way that  the back of the sofa faces the door. Then add a sofa table behind it. If you have a very large foyer,  try adding a round table in the center as opposed to a console up against the wall.
Five elements to define you entry are: a console table,  lighting,  mirrors, rugs and accessories. Here are some design picks for your foyer  in each of these categories.
Console Tables
1. French Country Table  2. Boulder Ridge Table  3. Wall Street Table  4. Wyoming Table
Lighting
1. Mercury Stacked Ball Lamp  2. Emery Table Lamp  3. Aqua Ceramic Lamp  4.  Nori Hammered Table Lamp
Mirrors
1. Trellis Mirror  2. Jute Rope Mirror  3. Green Mirrored World Map  4. Natural Wood Convex Mirror
Rugs
1. Ramona Kilim  2. Fremont Rug  3. Chevron Rug  4. Blooming Vines
Accessories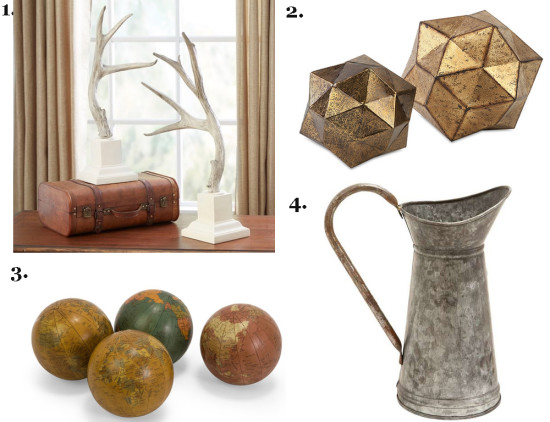 1. Antlers  2. Art Deco Designs  3. Continents Globe Spheres  4. Galvanized Water Pitcher
To add some storage space in the foyer, try using large baskets for things such as shoes and smaller baskets for keys or trays for incoming/outgoing  mail and paperwork. This way you can have an entry that's both functional and beautiful. 🙂