Decorating With Christmas Garland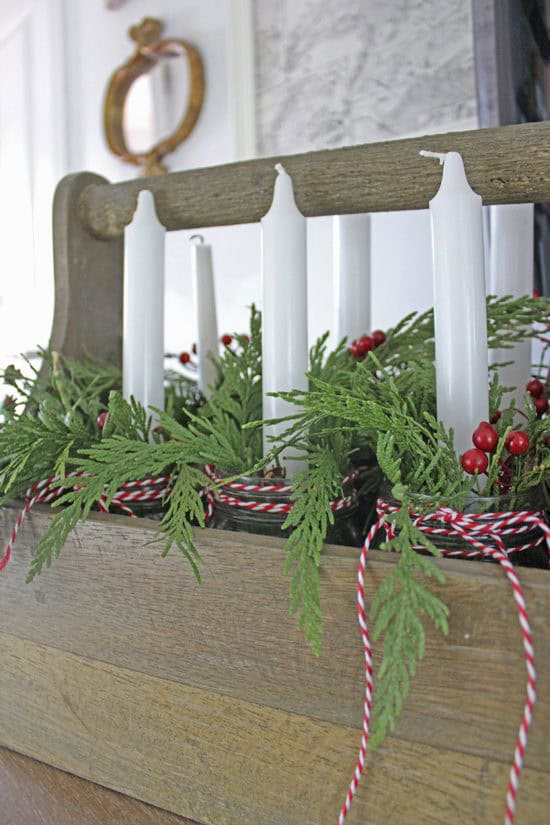 There's nothing like fresh garland this time of year. You can pick up a strand of Christmas garland for around $20-$40 dollars, depending on the size and where you buy it. I used one 18′ foot garland this year, and it was enough to decorate all around my house. I used it on both my living room mantel and my family room mantel.   Then I used what was left to make several vignettes around the house. I even saved the stray sprigs that fell off to add to Christmas gifts.
If you a regular around here, you know I like to make floral arrangements in my wooden tool caddy. For Christmas I wanted to do the same, but I wanted it to last. Fresh flowers only last a week or two but the greens from Christmas garland will last much longer.
What you will need to make a Christmas Garland Arrangement*: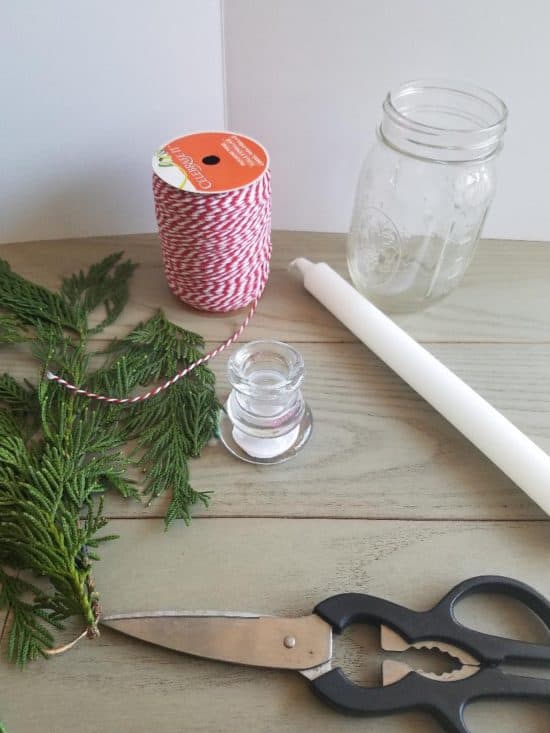 Fresh Garland or Greens
One thing to note, if you really want to save money, you can use the clippings from your Christmas tree to make this instead of buying garland. You can even ask at the place where you buy your tree for extra clippings and they will usually just give them to you at no additional cost. We went with an artificial tree this year, so I wanted the fresh garland for the smell. Begin by placing the small candle holder inside of your mason jar.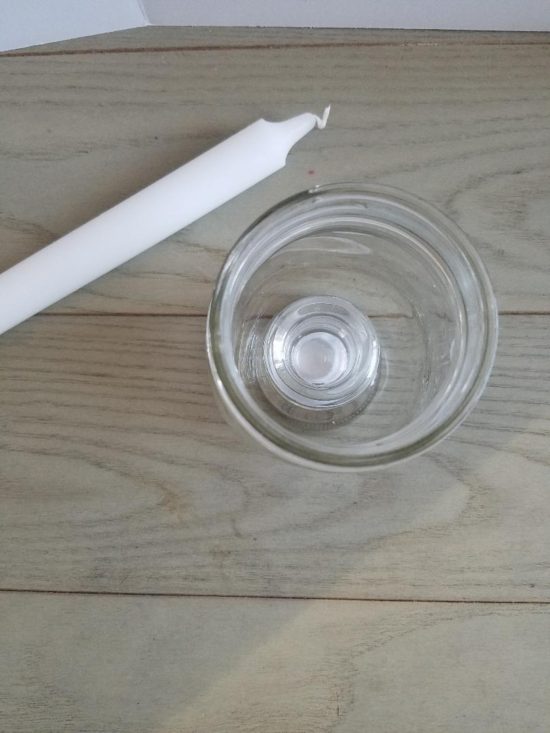 Next add water around the candle holder.
Then I added the candle and filled in around it with the garland cuttings.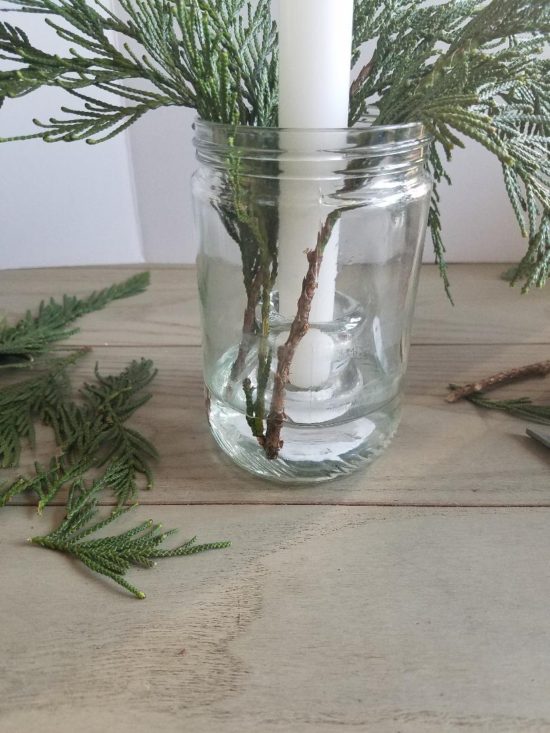 Tie on a bit of baker's twine to make it more festive.
Lastly, I arranged the mason jars in my caddy and added a few springs of artificial berry branches.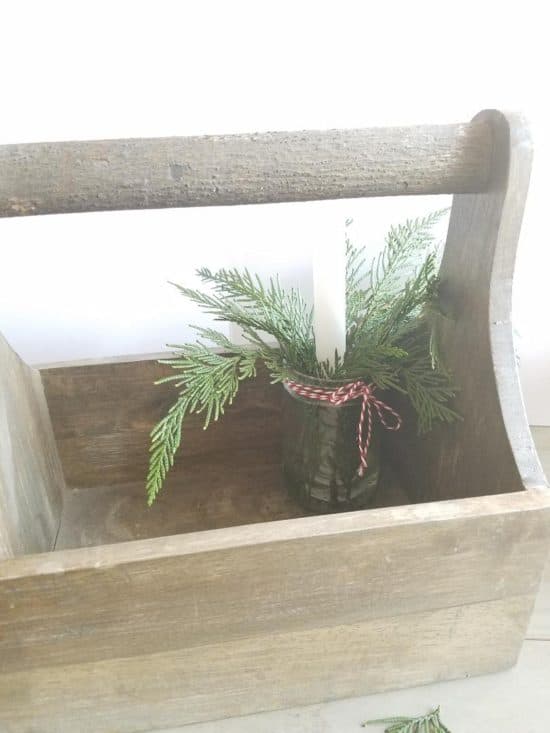 It took six mason jars to fill my caddy,  but you can get creative and use any vessel that you may have around the house. If you don't have anything that would work, try lining the mason jars up in a row down the center of your table or across a mantel. They look beautiful even on their own.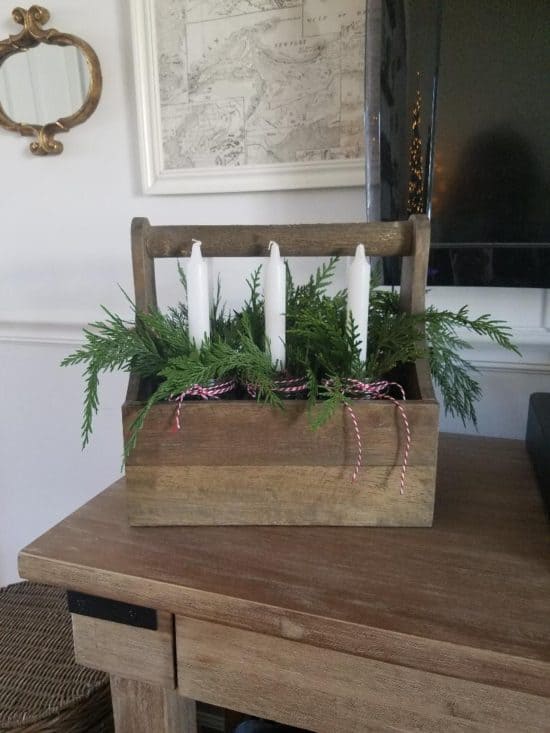 I had all of these items on hand, so the only thing I had to get for this was the Christmas garland. It's such a simple idea, but I really love how this came out.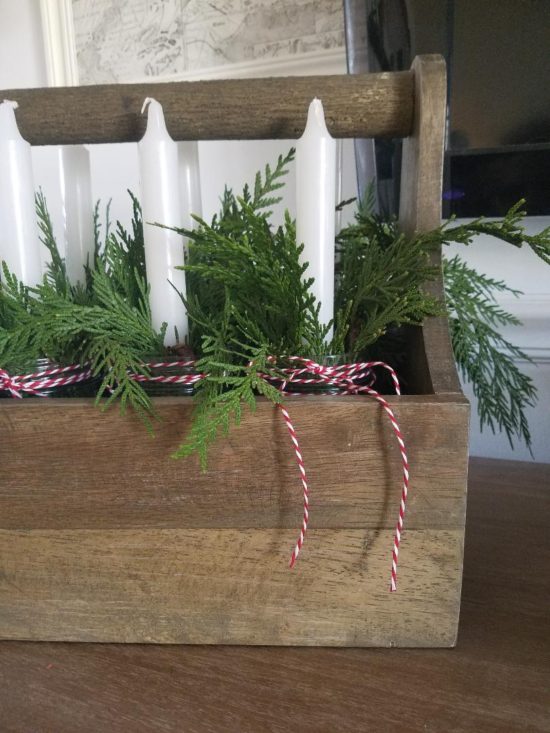 I'm going to take the next week or so off from blogging to enjoy the holidays with my family, I'll pop back in just before the new year. I want to wish you all a very Merry Christmas and thank you for following along with my decorating adventures!
*This post contains affiliate links, you can read my full disclosure here.