Christmas Wreath Giveaway!
Happy Thanksgiving! I hope everyone has a lot to be thankful for this year, I know I have many! One of which is all of you who follow along with my little blog. DIY and home decorating is really my passion and this blog is the place I get to share all of that. To start the holiday season off right and to thank you for following along with me, I have teamed up with an amazing shop called Lynch Creek Farm for a Christmas wreath giveaway. We are giving away not one, but TWO wreaths!
Two lucky winners will each receive the Three Cedars Wreath, which is the exact one shown in my house. I managed to get a little Christmas decorating done already and I just love how this looks (and how it smells)  in my family room!
One little trick I use for displaying wreaths is to use fishing line as a hanger. The over the door type wreath hangers do not work on my front door so that was an idea that I came up with awhile back. That is also what I used to hang this wreath from my curtain rod, if you look really close below you can almost see the fishing line.
Though I had it in my family room at first, I planned to move it outside. Because this is a live wreath it will last longer if hung outside. As luck would have it, a friend of mine showed up unexpectedly at my house yesterday. He knew I was looking for an old sled to use on my porch for Christmas and happened to find one in his garage. The timing was perfect! Here it is set up on my porch with the beautiful wreath.
The people at Lynch Creek Farm said that in cooler climates (like here in NJ) if the wreath is hung outside it may last as long as through March! Inside, it will last approximately 3 weeks. Care instructions are included with the wreath, but in a nutshell it's best to hang them outdoors and spritz them with water for optimal longevity.
Thanks again to Lynch Creek Farm for sponsoring this giveaway! Be sure to stop by their website where they also offer garland, centerpieces and trees as well as speciality items such as decor and Hanukkah arrangements!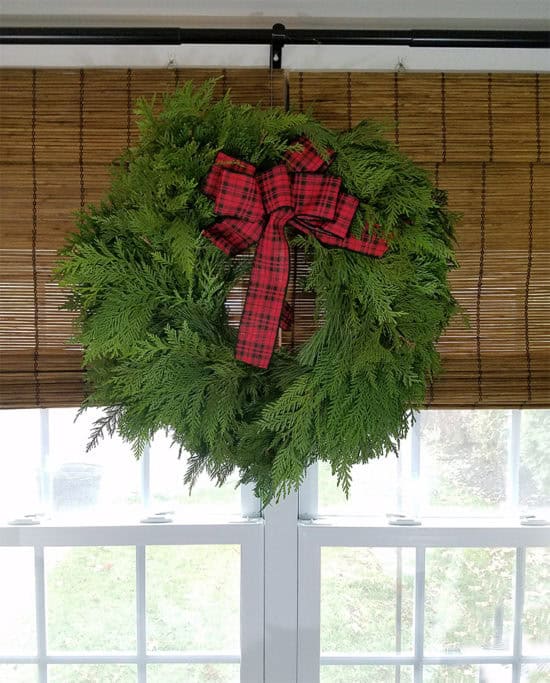 You can enter to win via the Rafflecopter below, shipping within the United States only. Good luck and Happy Thanksgiving!
This post was sponsored by Lynch Creek Farm, all opinions are 100% my own. Read my full disclosure policy here.
// ]]>