Ladder Back Chair Makeover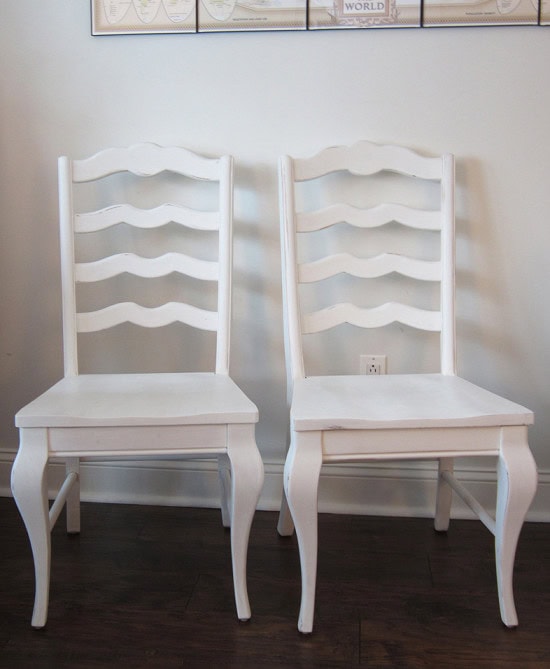 Maybe I should have titled this post why I love Annie Sloan Chalk paint. I've experimented with it several times on smaller items, such as my kitchen canisters, on these candlesticks and on a curbside chair I picked up. The chair and the canisters get a ton of everyday use, and have help up without so much as a scratch. Because of the durability, I decided to use it on another chair makeover. I bought these two chairs at Home Goods. If you follow me on Instagram you may have seen these already, although it was almost a year ago. I've just finally gotten around to painting them.
When painting, I prefer to use these sponge brushes if i can, because they don't leave any brush strokes. You can see this one has gotten a lot of use. I painted these chairs with three coats of the chalk paint. The post I shared about painting the kitchen canisters has instructions on how to use chalk paint, so I won't repeat that here.
What I do want to talk about this time is another reason why I love this paint in addition to the durability. When painting with regular paint, if you get sloppy and leave brush strokes – or worse – paint drips, you are basically stuck with them. I don't know about you, but after painting for a while I usually do get sloppy near the end when it matters most.
This is not a problem with chalk paint, because you can sand it down to a smooth finish. I wanted to lightly distress these chairs, so I sanded a little more in some spots than others. I took some before and after sanding pictures to show you the difference.
Another thing I really love, that doesn't show well in these pictures is the sheen you get after applying the clear wax. It's a very subtle sheen that really gives a finish like no other. This post is not sponsored by Annie Sloan in any way, I just really love this paint. I am now seriously considering using it to paint my kitchen cabinets.
I ordered two grainsack chair cushions from Pottery Barn to complete this chair makeover. They look different colors in this picture, but it's just the lighting.
The ladder back chairs are definitely an improvement from when I had my kitchen chairs in my family room temporarily. Next the black table is getting a little makeover. I plan to get to that soon and not a year from now! Hopefully!
If you have used Annie Sloan Chalk paint on cabinets, I'd love to hear about it!
This post contains affiliate links.