4 Ways to Style A Dresser
Why is it that the top of my dresser always seems to accumulate a lot of stuff? Is this just me or does it happen to you also? Wherever there's a large flat surface in my house it seems stuff magically piles up on it overnight.
Since my daughter has been away at college, her dresser (and her room) has become a bit of a storage area for random clutter. So for the last few weeks, I've been in major decluttering mode and now that I have most of the clutter out of there, I am thinking of ways to style her dresser for a fresh look.
I put together a few design boards with inspirational ideas, I started doing this for myself but I was having so much fun with it I decided to share it here. These are just for fun, these items may not be budget friendly or exactly to scale.
I really fell in love with the first dresser, I love the rustic wood and the pulls on it. The little boxes on top of it would help contain small clutter that could possibly accumulate. I also added a fun muted wallpaper in the background to see what that might look like.
dresser/mirrors/sconces/decorative boxes/floral arrangement/picture frame/wallpaper/floors*
The second one is a more minimalist look. I would like to buy a new dresser for her room, but if I don't find what I'm looking for on a budget, I may repaint the existing one to look like this.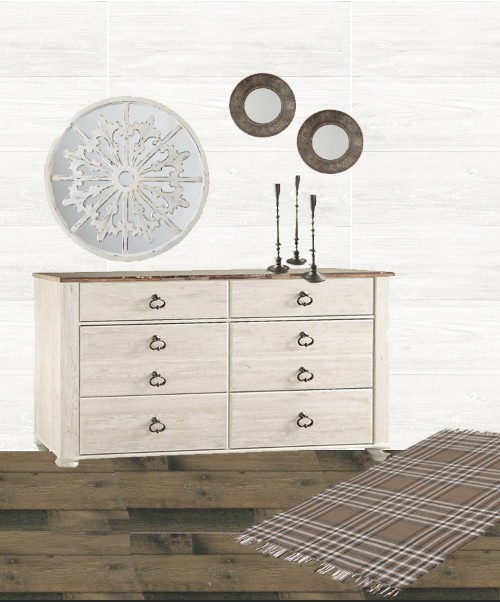 dresser/area rug/mirror/candlesticks/small mirrors
For the third board, I found another dresser with beautiful wood tones. This one looked coastal to me, so I went with that for this dresser styling.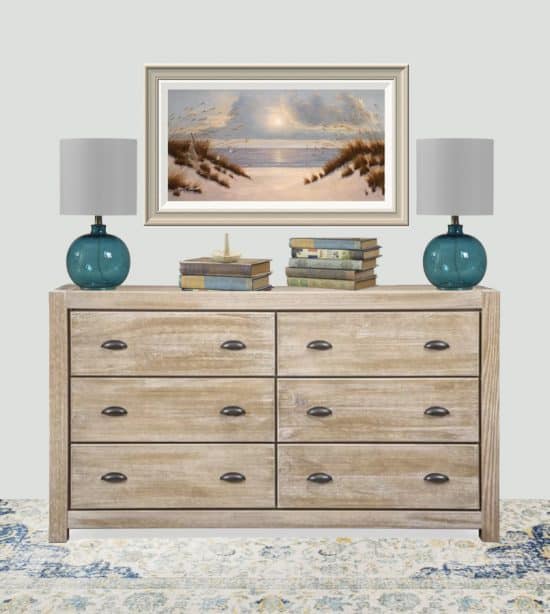 dresser/wall art/lamps/books/area rug
For the last one, I started with a brick background. I've had two rolls of brick wallpaper in my closet for years that I haven't used yet (except on my vintage mantel surround). I'm definitely feeling an asymmetrical vibe for the dresser in my daughter's room.
dresser/mirror/wall baskets/candlesticks/dough bowl/books/wallpaper
My thought is that if we make it look pretty, and add some containers for all the "stuff" maybe it will actually stay this way! Which one of these boards do you like best?
*This post may contain affiliate links, you can read my full disclosure here.