2016 Design Predictions from Design Bloggers
Happy New Year! I hope your holidays were happy with family celebrations. I took a little break to celebrate with mine. Between Christmas and New Years we also celebrated my oldest's daughter's 21st birthday. 21! This is where you say, you can't possibly be old enough to have a daughter that age and I humbly say thank you. 😉 They really do grow so fast!
Once the Christmas decor is neatly packed away I immediately start thinking about how I want my home to evolve this year. I try to focus on only adding pieces that can stand the test of time, while keeping more trendy decor to a minimum so it can be easily switched out when the trends change.
Today I have a treat for you with design predictions from 8 amazing design bloggers! Some of which have been designing and blogging for many years now, and a few up and coming bloggers as well. Thanks to all of you ladies for taking the time to share your design predictions with us!
Jenna from Rain on a Tin Roof
What design trend do you think will be big in 2016?
"Copper and more mixed metals decor. I think the resurgence of brass really opened up the floodgates for more metallic tones to make waves."
What design trend do you think will be on its way out?
"Please, dear Lord, let it be chevron!!! I think it's already started working it's way out, but I am ready to see it gone – I've never been a huge chevron fan."
Marian from Miss Mustard Seed Interiors
What design trend do you think will be big in 2016?
"Farmhouse style  is obviously a big trend and I don't think that's going away in 2016, but I think it will be refined a bit more and I think we'll see more Gustavian/Swedish influences."
What design trend do you think will be on its way out? 
"I think antlers and mustaches have their place, but I think we won't be seeing quite as much of them in home decor!"
Sarah from Life on Virginia Street
What design trend do you think will be big in 2016?
"I think we'll see the bohemian/collected look going more and more mainstream this year, but in a way that can appeal to all decorating styles. I also think we'll begin to see more bold florals and botanicals popping up in textiles such as pillows and curtains. Both are a great way to add color and bring in color palettes you may not otherwise use."
What design trend do you think will be on its way out?
"I think the 'obvious' DIY look is on its way out. At one point, people were DIY-ing projects just to DIY – because let's face it, it was fun and in some cases, could save a lot of money! Projects were replaced with project after project. I think we are going to start to see the rise of people being less enchanted with DIY-ing everything in sight because they know it can be costly in the long-run. Rather, we may see more investing their money in quality pieces (only sporadically DIY-ing the occasional project). When your home starts to look like every project you've ever seen on Pinterest it can be a bit overwhelming (I've been guilty)! A more thoughtful approach to home design may be on the rise."
Donna from Funky Junk Interiors
"I really just wing it with decorating. I base my decisions on what I need for my home, vs. what I can find to make it happen. I honestly never give a thought to what's in or what isn't. If I make something that makes my heart beat faster, I know I've hit the rusty nail right on the head!
My mantra is, collect the things you love to look at, then make them productive. THAT is your style, and all that really matters."
Laura from Laura Collins Design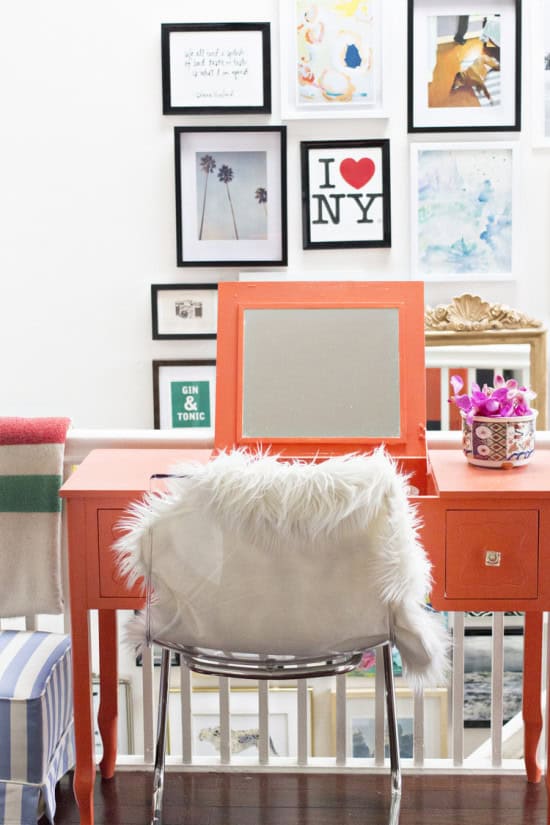 "Tis the season to change things up, out with the old in with the new! Here are a few of my loves & leaves for this upcoming season!
Love- Copper. There has been an obvious influx of this pretty metal, popular in design from fashion to kitchen hardware, this is one that is going to be around for a while!
Love- Minimal mid west inspired design with tribal accents.
Think Amber Interiors, white interiors layered with texture and print, creates a warm space to invite friends over for a glass of wine, without being too fussy!
Love- Dark Interiors. From powder rooms, to bedrooms, this design myth said to minimize the look of rooms, is currently a favourite go to of mine!
Love- Eclectic Design. Mix and match designs from different decades! Burled Wood, and Lucite?? Oui, Oui! 
Leave- Anything too matchy matchy- and I don't mean in a chic, blue, on blue, on blue kind of way- but in a Price is Right- You just won a bedroom set kind of way!!
Leave- Any kind of reclining furniture…. Write to me if you think you have found an exception…. 😉
Leave- Bulky leather sofas….. Need I say more!!"
Jennifer & Vicki from 2 Bees in a Pod
"Weathered wood and farmhouse style is a trend that doesn't seem to be going away anytime soon. Weathered wood continues to be a hot trend in home furnishings as well as outdoor decor. Farmhouse style remains supreme as long as it looks authentically vintage and aged. From barn doors to tobacco  baskets to bread boards, these styles will be around for quite some time."
Corinna  from A Designer At Home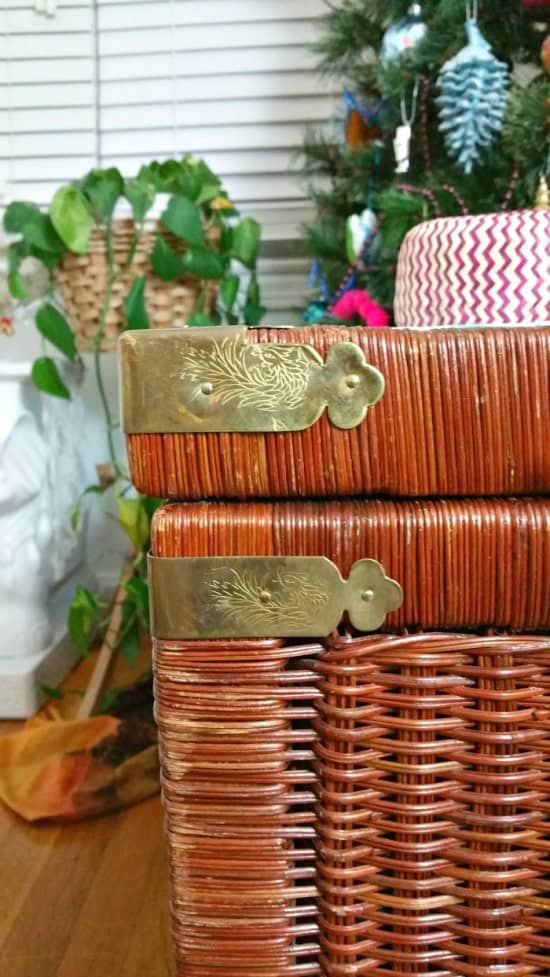 "Geometric patterns are on their way out. Patterns will present in more organic ways with less forced obviousness. Bold botanical wallpapers will replace the geometric ones."
 Alyson from Inspirational Interior Designs
"I think the DIY/Pinterest/Etsy craze will continue and intensify, bringing emphasis on the handmade and original. I think bold geometric prints will gain popularity as well as the monochromatic gray color schemes-the two ends of the spectrum, will be the most popular if I had to guess!"
As far as what I think: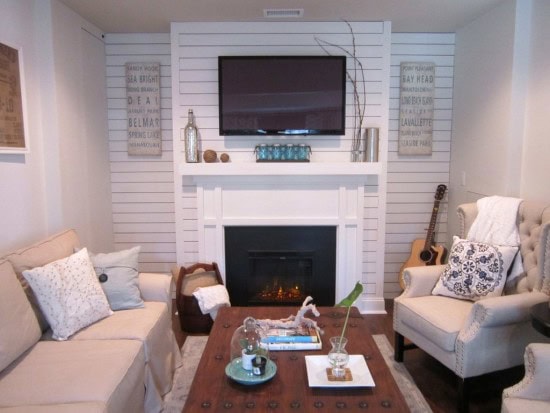 I think indigo will be huge this year! I'm seeing it everywhere from accent pieces to entire rooms painted in that shade.
And as for what I think we be out,  hopefully traditional style decor, with the exception of a few well placed antiques. I feel traditional style decor is too dark and too fussy.
Thanks again to the above bloggers who took the time to share their design predictions with us! My favorite design prediction was the one from Donna at Funky Junk Interiors,  I agree with decorating with what makes you happy. My biggest goal for 2016 is to stop following the crowd, and I'm not just talking about decorating. My favorite people are the ones who don't put on any airs. I am also aiming to spend my free time only with people who inspire me to be better, or those that I can help or inspire in some way, and lastly to just be myself. That is one of the best things about getting older isn't it? You care less about what others think of you and more about being true to yourself. I wish you all a happy & healthy new year!