10 Random Things I Learned in My First Year of Blogging
I wasn't going to do a post on this, because when it comes to blogging I have way more questions than answers. But then I thought maybe a little of what I have learned in the last year might be beneficial to someone else starting out. If you are not a blogger, please stay and leave a comment, I'd love some feedback on what you would like to see more/less of in the next year. Don't forget, there is still time to enter to win a $50 Birch Lane gift card! This week marks one year that I've been blogging, so here are 10 random things I learned in my first year of blogging. I hope there is something useful in here for you!
1. Name your images when uploading to your blog.    In the picture below, you can see in the box on the bottom right, when I uploaded my image  I filled in the title and the Alt text. It helps for SEO. I'm still learning about SEO, and one useful article I've found is:  10 Food Blog SEO tips. Although it's titled for food blogs, it is relevant for any blogger. I also recommend signing up for the newsletter on that site, it's always full of helpful hints.
2.  Similarweb.com is a useful website. You can enter the URL to any blog or website and see how many page views that site gets a month. While I don't recommend comparing yourself to others, especially when just starting out, sometimes that information can come in handy.
3.   Create a clickable image in your sidebar. This one drove me crazy and took me awhile to figure out, but it's actually easy to do! Read the how to here:  How to make a clickable image.
4.  Pinthemall.net is a site that lets you create your Pinterest pins with several pictures,  gallery style.   Below is an example of how I used this to pin my Spice Rack project. From what I understand, these type of pins have a higher rate of repins. For great instructions on how to use this, and other Pinterest tips visit the Rustic Willow.

5.  Schedule social media. Embrace the use of social media, it is imperative in blogging. There are many websites that will let you schedule your posts in advance so you don't have to remember to constantly update your various accounts. This is something I'm only just beginning with. Last week I signed up for BoardBooster, which lets you schedule your pins to Pinterest.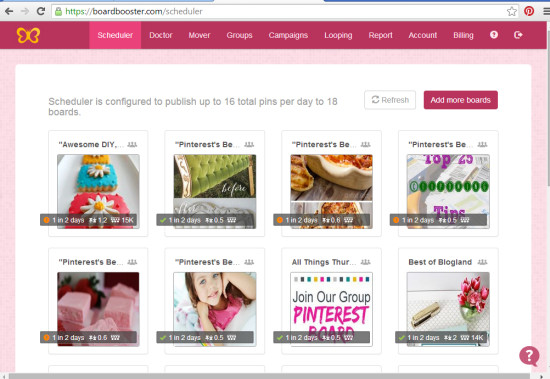 6.  Only blog about something your passionate about.  Blogging takes a lot of time and effort. If you aren't passionate about your topic, you will burn out quickly.
image via fashion designing india
7.  Focus on growing and learning a little each day or week.  Blogging can be overwhelming, to say the least.
8.  Make sure you back up your site!  With all the time we spend on blogging, having a back-up in case of any problem is vital. I use  Blogvault. Thankfully, I haven't had to use it at this time, but I have sent several emails with questions over the past year and the customer service is fantastic!
9.   Being social in the blogging community is extremely important.  The blogging community (the DIY niche, anyway) is a supportive one. Blogging can be lonely without a support system. You can find a lot of great advice on this, as well as tons of useful tips on all aspects of blogging in this e-book: Building a Framework. I highly recommend this, I still refer to it months later.
10.  Install the Comment Email Reply plugin.  As bloggers, we all know how important comments are, whether leaving them or receiving them. When you have this plugin installed, it will automatically email your reply to the comments left on your blog directly to the person that left the comment. This way, they don't have to remember to come back and check if you've responded.
If you're a blogger, I would love for you to leave me one or two of your best tips in the comments! Blogging is best when we continue to help each other! If you're not a blogger (and you're still reading this, thanks!) please let me know what you'd like to see more or less of in the next year!
This post contains an affiliate link.